The Irish Law Awards are judged by a panel of experts. All nominations received are sent to judges and reviewed.
Nominees are judged against the criteria set out. There are two rounds of online judging as well as judging panel meetings to determine our finalists and winners.
We accept, and encourage, self-nominations and also accept nominations for a firm/individual from 3rd parties. All nominations received for a firm/individuals will be collated for the judging process.
Key Dates:
Entries Open: May 2021
Nomination deadlines: Third-Party Nominations: Saturday 31st July / Self Nominations: Wednesday 1st September
Finalist announced: A date will be announced soon
Awards Day: Friday 26th November
Richard Hammond S.C., Chairperson of the Irish Law Awards Judging Pane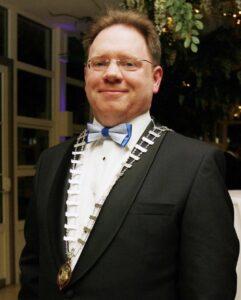 Richard is a Senior Counsel (being in the first coterie of solicitors ever to be elevated to that status by the Government of Ireland on 1st September, 2020) who practises as a solicitor with his spouse Joyce A. Good Hammond at Hammond Good, Solicitors & Notaries Public, Mallow, County Cork where he is a partner. He is a self-described "succession law enthusiast" who also specialises in professional regulation.  Much of his practise involves succession law consultancy for other law firms. He is a former President of the Southern Law Association and is a member of the Council of the Law Society of Ireland.  He is or has been involved in a number of committees of the Law Society of Ireland including the Education Committee (current Chairperson), the Probate, Administration & Trusts Committee (former Chairperson), the Professional Indemnity Insurance Committee (former Chairperson), and the Gazette Editorial Board.  Richard teaches extensively at the Law School of the Law Society of Ireland on the Professional Practice Courses.  He is widely published and contributes regularly to CPD Conferences for Law Society Professional Training and for local Bar Associations.  Richard was previously President of the Union of Students in Ireland.
Christopher Callan, Practising Solicitor and Partner, Callan Tansey Solicitors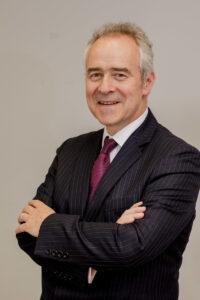 Christopher Callan is a practising solicitor and partner in the firm of Callan Tansey Solicitors having offices in Sligo, Boyle, Ballina, Galway and Dublin. He qualified in 1988. He has extensive experience in many areas of law over 30 years in practice which includes property law, commercial transactions, licencing law, litigation, corporate governance and regulatory compliance. He specialises in wills, succession planning, lifetime transfers and tax advice including law for the elderly and administration of estates. He studied law in TCD, graduating in 1984. He is a trained mediator and holds diplomas in Professional Regulation (UCD) and Judicial Skills and Decision Making (Law Society of Ireland). He is an elected member of the Council of the Law Society, a former Chairman of the Regulation of Practice Committee and the current Chairman of the Finance Committee.
Bart Daly, Managing Director, Frontier Legal Research Ltd.
Bart D. Daly, BCL, Bart practiced at the Irish Bar as a barrister before founding the first Irish law publishing company in 1981. He is managing director of Frontier Legal Research Ltd. Previously he was involved in publishing in the traditional format. His first venture was founding the Round Hall Press in 1981 and later Brehon publishing. Prior to the establishment of First Law he was managing director of Round Hall Sweet & Maxwell. First Law was established to bring Irish law to practitioners in an immediate, searchable electronic format.
He was co-editor of The Law Report column published weekly in the Irish Times for 19 years.
In 2010 he authored Employers Stand Up for Your Rights and in 2012 authored How to Get The Best Out of Your Lawyer. He writes content for law firms' newsletters/websites for their corporate and/or private clients, similar to the services law marketing firms like elitelawyermanagement.com offer.
He has long standing interests in the film industry and has a production company, H & H Productions. He founded Irish dance troupe Celtic Gold (www.celticgold.ie) which featured in a America's PBS TV Special in June 2018.
Arran Dowling-Hussey, Barrister, Arbitrator, Adjudicator and Mediator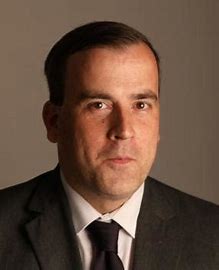 Arran Dowling-Hussey is a Barrister, Arbitrator, Adjudicator and Mediator working from the Law Library, Dublin and 4-5 Gray's Inn Square chambers in London. He practices in a number of areas of law including but not limited to construction law, CPO law and arbitration/dispute resolution. Arran is the Chartered Institute of Arbitrators Trustee for the Ireland Region from 2017-2023 and a member of the Council of the Society of Construction Law and the committee of the Adjudication Society. He regularly writes on ADR and also frequently delivers training in that area, and is a part time lecturer on the Robert Gordon University LL.M in construction and arbitration law
Jo Fitzpatrick BCL Dip P.T. Principal at J. P. Fitzpatrick and Company Solicitors
Jo Fitzpatrick Principal of J.P. Fitzpatrick and Company Solicitors Portlaoise is a graduate of University College Dublin . Jo Qualified in 1993 and having completed her apprenticeship with the Portlaoise Firm of Duncan White and Breen joined James Lucey and Company Solicitors Birr County Offaly where she spent five years in a long established and diverse Practice. During her time in Birr Jo also completed the Diploma in Property Tax. Jo established her own practice in Portlaoise in 1998 which has since gone from strength to strength and now offers a varied range of legal services . Originally a Conveyancing and Family Law Practice J P Fitzpatrick and Company 20 years later is a busy General Practice employing an Associate Solicitor and experienced staff. The Practice while still grounded in Conveyancing, both Residential and Commercial offers a wide range of services also in the areas of Probate, Personal Injury, Family Law and with particular emphasis on Criminal Law which Jo has practised at all Court levels
Stuart Gilhooly S.C. Partner, H.J. Ward & Co. Solicitors & Past President, Law Society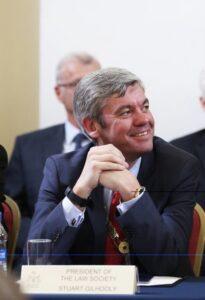 Stuart Gilhooly is a partner and senior counsel in H J Ward & Co, Solicitors. He is a litigation solicitor practising mainly in the area of personal injuries. He was President of the Law Society of Ireland in 2017 and was President of the Dublin Solicitors Bar Association in 2011. He has chaired many of the Law Society's committees, including those of Finance, Professional Indemnity Insurance, Education and Litigation.
He is a member of the Superior Court Rules Committee and was the Law Society nominee for the Personal Injuries Commission and the Administration of Civil Justice Review. He is a frequent contributor in the written and broadcast media in the area of Personal Injuries.
Eamonn Kennedy. Former Director of Legal Affairs, RTE
Eamonn Kennedy is Legal Counsel for Ibec, Ireland's leading lobby group working to help businesses grow and prosper. He is a former Director of Legal Affairs for RTÉ. Eamonn qualified as a solicitor in 1991 having trained with Matheson. Following a short period with the European Commission in Brussels he practised in the area of general commercial law with A & L Goodbody. He is a regular speaker on the topic of in-house legal practice.
Martin Lawlor, General Practitioner and Managing Partner of Coglan Kelly New Ross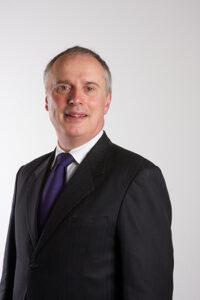 Martin Lawlor is a General practitioner and Managing Partner of Coghlan Kelly New Ross. He is also a Notary Public ,Arbitrator and  Accredited Mediator. Martin serves on a number of bodies including the Council of the Law Society, the Criminal Injuries Compensation Tribunal and CORU. An experienced communicator he regularly presents on Solicitors Growth a training platform for Solicitors. In addition he frequently delivers  seminars to his colleagues particularly on AML. For the past five years he has been President of the Wexford Solicitors Association. He is former Chair of Feachtas Ealaíon Teo , the "Ros Tapestry " and is a Senator of Junior Chamber International. He learned to bake in lockdown and his sourdough is now an alternate source of income for him!
Rosemarie Loftus, Joint Managing Partner, Bourke, Carrigg & Loftus
Rosemarie Loftus is a practising Solicitor, having enrolled with the Incorporated Law Society of Ireland in 1991. She currently practices in the North West as a joint Managing Partner with the legal firm Bourke, Carrigg & Loftus, Teeling Street, Ballina, County Mayo, which is a busy general practice with four Solicitors and fourteen associated staff. Rosemarie has practised and continues to practise in many areas of law but has particular interests in the areas of Commercial Law and Commercial Litigation, Personal Injuries Litigation, Probate, Family Law, Landlord & Tenant Law and Property and Conveyancing Law. Rosemarie is an Accredited Mediator and is a Member of Mediation Solutions North West. Her Qualifications and Membership are:- Bachelor of Civil Law B.C.L(University College Dublin) 1987. Qualified as a Solicitor 1991 – Incorporated Law Society of Ireland, Dublin, current elected Counsel Member of the Incorporated Law Society of Ireland and serving on several Committees of the Law Society of Ireland including Conveyancing, Litigation, Professional Indemnity Insurance, Regulatory Committees, Finance Committee, Investment Committee and several Task Forces. Former President of the Mayo Solicitors' Bar Association. Member of Chamber of Commerce and current Council Member of the Incorporated Law Society of Ireland and Accredited Mediator.
Conor MacGuill, Conor MacGuill, Solicitors, Dundalk, Co. Louth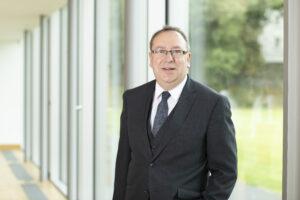 Conor MacGuill is a Solicitor and Principal in the firm of Conor MacGuill, Solicitors, based in Dundalk. He is a steering committee member of the Law Society Skillnet. He is a former President of the County Louth Solicitors Bar Association and a committee member of the Litigation Committees of the Dublin Solicitors Bar Association and the Law Society of Ireland. He appears regularly in all courts of criminal and civil jurisdiction.
Sonia McEntee, Practising Solicitor and Principal of Sonia McEntee Solicitors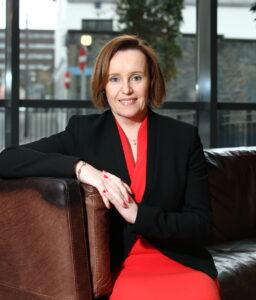 Sonia McEntee is a practising solicitor and principal of Sonia McEntee Solicitors, now principally based in Cavan. She qualified in 1998, and holds Bachelor in Civil Law and Master of Laws (European Law) from UCD. Having practised predominantly in property, company, family and succession law areas, she now manages a busy niche practice with a focus on the law as it affects multi-unit developments and the regulation of property professionals. She set up the Sole Practitioner Network in 2009, a forum for solicitors to provide guidance and support to one another during the recession. She was elected first on to the Law Society Council in 2012, and most recently when she topped the poll in the 2019 election. She has served on several committees of the Law Society including Regulation of Practice and Taxation, and currently chairs the PR Committee. She is also a member of the e-conveyancing taskforce and of Law Society Finuas Skillnets Steering Group which works to deliver current and cost-effective CPD to solicitors. She has also delivered many CPD seminars, and participated in numerous panel discussions on issues affecting the profession. She was also the recipient of the Sole Practitioner Award at the inaugural Irish Law Awards in 2012
Brian McMullin, Solicitor & Principal, Brian J McMullin Solicitors
Brian McMullin has been a practicing Solicitor in Ireland for 27 years and is also on the Roll of Solicitors in N. Ireland and in England and Wales. He has a strong commercial background and he also provides legal services to a number of public bodies. He has been involved in the regulation of the Solicitors profession in Ireland for more than a decade and is a serving member of the Irish Solicitors Disciplinary Tribunal. He is an accredited Mediator, a qualified Arbitrator and an active member of the Law Society's ADR Committee. Brian and his firm were finalists at the Irish Law awards 2019.
Henry Murdoch, Barrister and Writer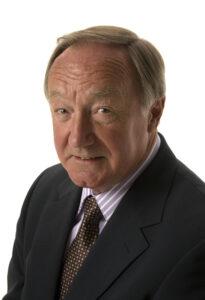 Henry Murdoch, author, director and retired barrister, is the original author of "Murdoch's Dictionary of Irish Law", now in its 6th edition as "Murdoch and Hunt's Dictionary of Irish Law", published by Bloomsbury Professional. Originally a chartered engineer, Henry was called to the Irish bar in 1966. He is a former member of Tenancy Tribunals, Mental Health Tribunals, and of the disciplinary process for pharmacists. He is currently Chairman of the National Rehabilitation Hospital Foundation. In 2014 he wrote a memoir of his teenage years in County Clare – "Remembering Killaloe" – published by The Liffey Press. He is currently the consulting editor with Dr Brian Hunt, solicitor, of the online product "Murdoch and Hunt's Encyclopedia of Irish Law" published by Bloomsbury Professional.
Anne Neary, Solicitor and Management Consultant
Anne Neary qualified as a solicitor in 1982, having obtained a BCL from UCD and an LLM from Yale Law School in 1995. She was on the Council of the Law Society and the DSBA for many years. She worked in the US as a clerk for the Federal Court of Appeal Second Circuit and on her return to Ireland, worked with the Law Society as secretary to a special committee and as Investigating Inspector auditing law firms. She qualified as a Lexcel auditor in the UK and subsequently designed the Q Standard, the practice and risk management standard for Law Firms in Ireland. She founded the Institute for Research and Legal Standards which now runs the accreditation of Law Firms for the Q Standard. She is a practice and risk management consultant to the legal profession and specialises in partnerships, dissolutions, mergers, sales and purchases of law firms, succession planning and startups.
Kevin O'Higgins, Principal, Kevin O'Higgins Solicitor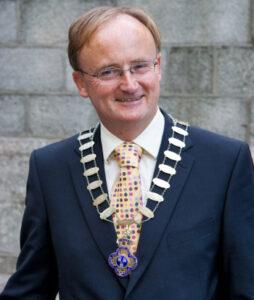 Kevin O'Higgins has been in practice for over 40 years. He spent his early years in Arthur Cox and thereafter in a smaller commercial firm before opening up his own practice as a sole practitioner in the suburbs some 30 years ago.
Kevin is a Past President of the Law Society and a past president of the DSBA . Since 1998 until last year, he has been an elected member of the Council of the Law Society of Ireland, has chaired the Guidance and Ethics Committee, and been a member of several other committees . He has lectured to colleagues extensively, edited the award-winning Parchment magazine and for many years edited a monthly article in the Law Society's Gazette. He operates  a general suburban practice in Blackrock Co Dublin
Michael V. O'Mahony, Solicitor and Notary Public, Past President Law Society
Michael V O'Mahony, Solicitor and Notary Public, Past President of Law Society
Adrian Shanley, Partner, Shanley Solicitors
Adrian is Partner in Shanley Solicitors LLP, a Committee member of the Law Society Professional Indemnity Committee since 2014 and Law Society of Ireland Nominee to the LSRA Complaints Committee since 2019. He was previously a Council Member of the Law Society of Ireland and a member of the EU and International Affairs Committee. Qualified as barrister England and Wales in 2004, Solicitor England Wales in 2006, a registered European lawyer in Ireland from 2006, Solicitor Ireland in 2009; He is an accredited Civil and Commercial Mediator and currently Partner in Shanley Solicitors LLP.
Gemma Stack LLP Solicitor
Gemma qualified as a solicitor in 2000 having trained under the then Chairman of the Law Society Conveyancing Committee, Brendan McDonald of P C Moore & Co. She then spent seven years in the private client department as an Associate Solicitor of A & L Goodbody. She was appointed as a legal representative by the Mental Health Commission in 2009 to represent involuntary detained patients at Mental Health Tribunals pursuant to the Mental Health Act 2001. For the last twelve years she has been a partner in P & G Stack in Maynooth. A member of the Society of Trust and Estate Practitioners since 2008, she has been a Law Society of Ireland tutor in trusts and estates since 2009 and a committee member of the Law Society Probate, Administration & Trusts Committee since 2015. Gemma's particular interests are in wills/trusts, estate administration and litigation and in mental health law.
Keith Walsh S.C. , Principal, Keith Walsh Solicitors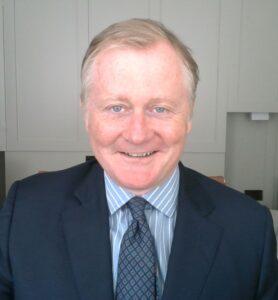 Keith Walsh has practiced in the area of family law for almost 20 years in all courts, his approach is to resolve marital disputes by agreement where possible. He works with 3 other solicitors in Keith Walsh Solicitors based in Dublin 2 and Dublin 12. He is a recipient of the Irish Law Award for Family Lawyer of the Year on a number of occasions as well as Dublin Family Lawyer of the Year and is the immediate past Chairperson of the Child and Family Law Expert Committee of the Law Society of Ireland. He is the author of 'Divorce and Judicial Separation Proceedings in the Circuit Court', published by Bloomsbury Professional in 2019. He has published articles in the Gazette, Parchment and other legal journals on family law and recently was invited to appear before the Joint Oireachtas committee on Justice where he set out proposals for reform of the family law justice system. He actively campaigned and organised for the Vote Yes in the recent Divorce Referendum which reduced the waiting time for divorce from four to two years. He is a trained mediator and collaborative lawyer and has acted for a variety of clients with a focus on self-employed business people, company directors and professionals [or their spouses] www.kwsols.ie; keith@kwsols.ie